Our Mission...
...is 'Sharing God's Love in the Community.'
Click above on the

Activities

tab (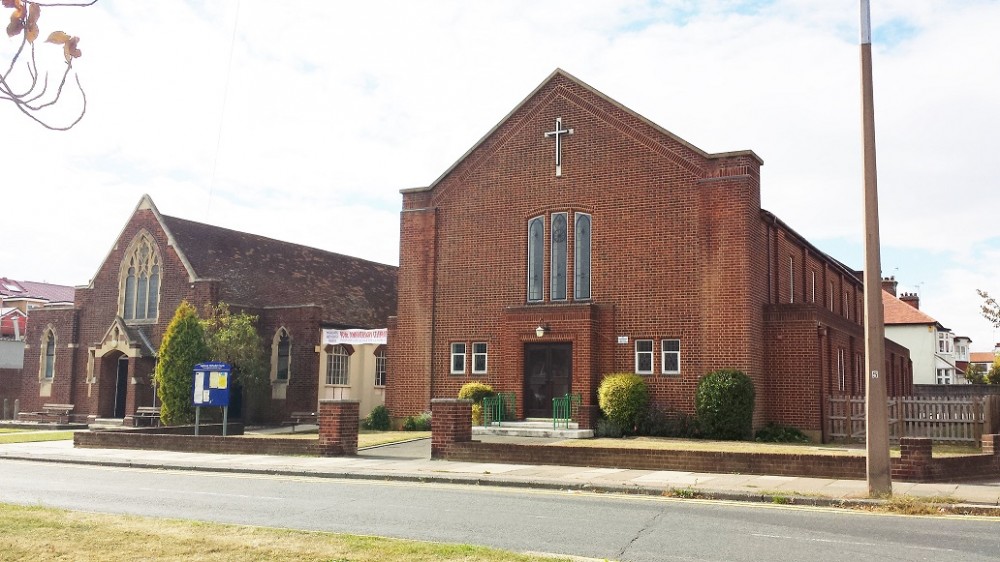 then

Regular Activities

) to see what's happening at Highlands.
Our Leadership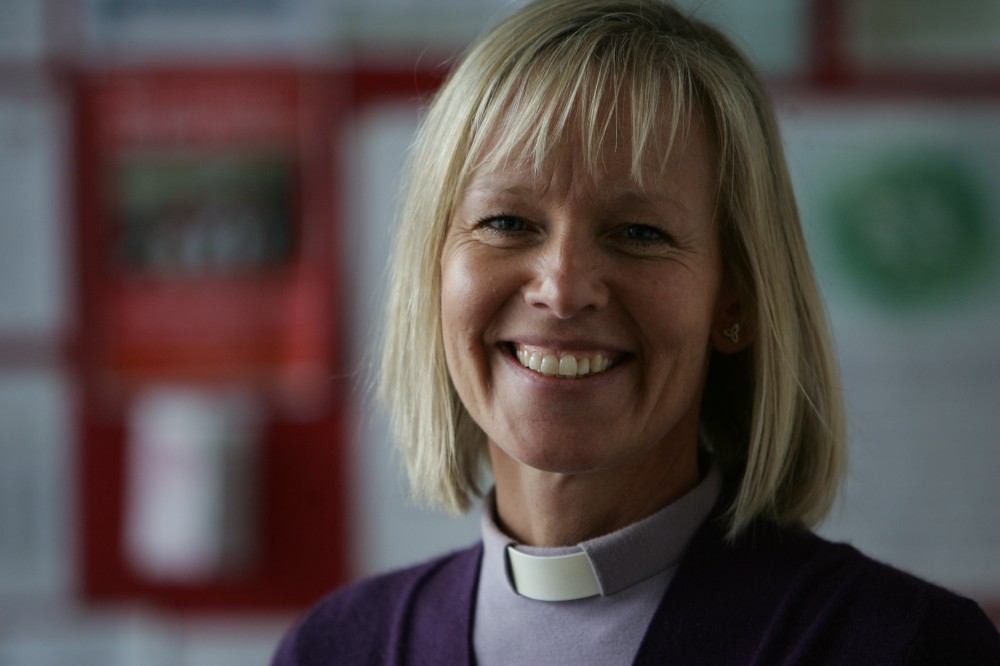 Rev Julia Monaghan, our minister, moved to Leigh from Birmingham in 2012, along with husband Sam, a director of Barnardos Children's Charity. Previously Julia worked for 25 years as a Local Authority Social Worker then served for 5 years as a Methodist minister on the Birmingham circuit. Supporting Julia is a church family that includes local preachers, a mission enabler for older people, church stewards and many members who take care of our building.
Julia will be enjoying a
well-earned period of sabbatical leave from 1 October to 10 November 2017.
Worship
We meet for worship on most Sundays at 10:30 a.m. and enjoy tea & coffee
together after the service. We'd be delighted if you came and joined us.
The exception is the 1st Sunday of each month. On those days we'll meet for tea/coffee at 9:30 am and then join our friends at Wesley for a joint service at their newly refurbished building. Lifts will normally be available.
Also, a friendly group of Highlands' people meet in a home every two weeks for fellowship. We meet at 7.30pm on Tuesdays. A warm welcome awaits you if you would like to join us. Contact Kathy on 01702 714528, or click

here

for more details.
Manchester Bomb Attack
Our thoughts and prayers are with everyone affected by the appalling bomb attack at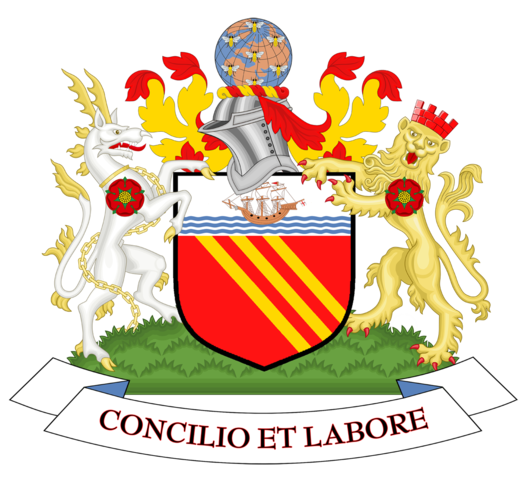 the Ariana Grande concert in Manchester on 22 May. We offer this

prayer of response

and a

poem

by

Tony Walsh

that explains how Mancunians feel about their city.
"Father, forgive them, for they don't know what they are doing."
Luke 23:34
It's back!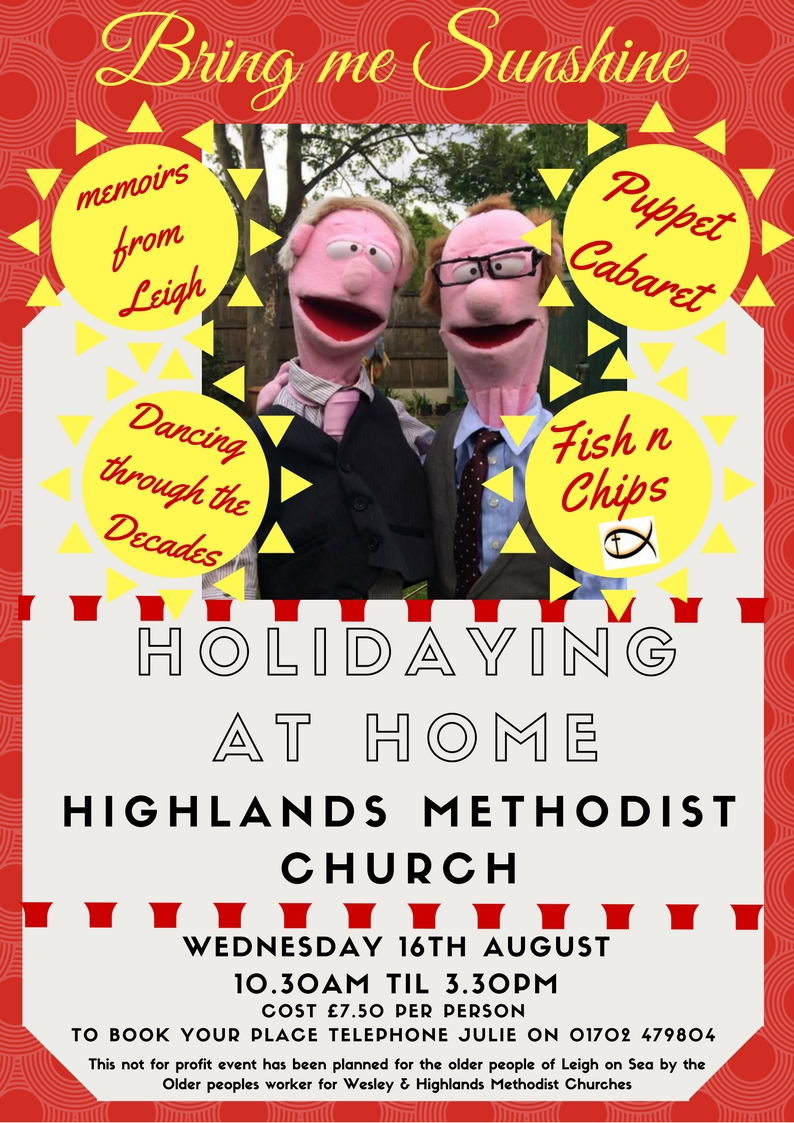 Holiday at Home is back for another season.
The summer programme of 'Holiday at Home' is ready to roll again at Highlands.
Find all the details
here
Scorchio!
Choose Love
What do you know about Islam? Do you answer: 'Not much' or 'Only what I read in the newspaper'? Should you dismiss or respect Islam? How does Islam regard Jesus?
What do you know of Muslim people in Southend? Should you love or fear your Muslim neighbours? Choose love, and find out more. Follow this link.
Annual Church Report 2017 now available
Save the Date
Saturday 21st October will be the date that Highlands welcomes the King (No, not that one. The King of Glory has always been here.)
I refer of course to

Elvis

. More details

here

.
Meanwhile an intrepid group from Highlands and Wesley has undertaken a pilgrimage
It's OK to smile!
But you need to think and pray as well. We have for you a new version of a famous Psalm. C
lick
here
Do you get the Midwee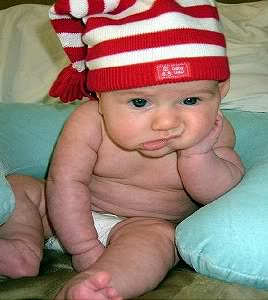 k Blues?
Fed up? Nothing but doom and gloom on the news?
Need a bit of a lift?
Come and have a chat on a Wednesday.
Sometimes, something wonderful and totally unexpected happens. How appropriate that it should be on Easter Sunday!
Summer at St Peter's
click
here
Where are they now?
To find out how things are going for a former Highlands Sunday School member you might remember,
click
here
Our Services have changed
Reflections
We now have a new folder of pages that we want you to add to. Find out more

here

.
At Highlands we support a Methodist charity called All We Can.
All We Can is a
pioneering international development, relief and advocacy organisation that helps people to find solutions to poverty and become all that they can, in order to create positive, long-term change in some of the world's poorest communities. Find some inspiring stories about All We Can, and about how you can help by using

this link to their website

.